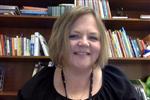 Welcome to the Counselor's Corner at Carson!
I am so excited to join the staff at Carson this year as the school counselor! I am dedicated to helping all students reach their academic, career, personal and social/emotional potential in elementary school and beyond. My mission is to implement a comprehensive school counseling program that will assist students in acquiring the skills, knowledge, and attitudes needed to to become responsible students and lifelong learners.
I provide individual counseling to help students identify problems and work on solutions and skill development. Some common issues that school counselors help students with are stress, peer and adult relationships, coping with loss, anger management, behavior, problem solving and academics. Group counseling is also greatly beneficial to students in helping them to navigate shared experiences. Group topics may include social skills, friendship, study skills or conflict resolution. Groups will be offered on an as needed basis.
We are excited this year to implement Second Step, a social and emotional learning program that will help all kids develop skills for learning, empathy, emotion management and problem solving. Watch for more information on Second Step and how you can be a part of this exciting journey with your child!
Please call or email me if I can answer any questions regarding the school counseling program. I look forward to meeting and working with the Carson stars and their families!
My name is Vickie Gordon, and I am excited to join the Carson staff as the school counselor!
2021-2022 will be my 21st year in education. My journey in education has included teaching in elementary, middle and high schools as a special education teacher and in middle and high schools as a Spanish teacher. Eight of those years were in Decatur ISD. I was an elementary school counselor in Castleberry ISD for four years.
I have a Bachelor's degree in social work from Baylor University, a Master of Social Work degree from Tulane University and a Master of Education degree in school counseling from Lamar University. I was a clinical social worker for eight years before becoming a teacher. I am a veteran of the U.S. Army.
I'm a native of Decatur and have lived in Decatur for the last 17 years. My three children and I are graduates of Decatur High School We enjoy camping and traveling as a family.
My goal is for all students to have success in school by helping them develop the social and emotional skills that they will need for school, work and life. I am committed to implementing a comprehensive school counseling program that will benefit every child in their academic, career and personal/social development.
I look forward to meeting the Carson stars and their families! Go Eagles!