Telemedicine- Cook Children's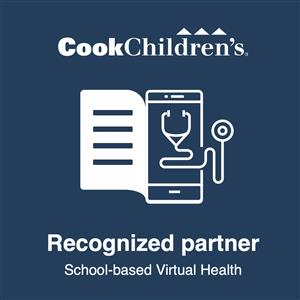 Decatur ISD health services is proud to announce a partnership with Cook Children's. We will be offering telemedicine at our DISD campuses. This program allows your child to receive virtual medical care in partnership with the school nurse. Students will be seen for medical care such as strep, flu, pink eye, ear infections, rash, head lice etc. Not all illnesses will qualify for a televisit. The school nurse will determine if the student meets the criteria for Telemedicine.
You must register your child(ren) for this service if you are interested.
Costs for this service vary based on insurance. Students covered by Medicaid and CHIP get Telemedicine free of charge. Private insurance will cover telemedicine depending on your provider's copay. You will be contacted by Cook Children's with your Telemedicine fee prior to the virtual appointment.
Go to www.schooltelemed.org to find out more details about the service.