Welcome to PE at Young Elementary!
We hope you will enjoy learning new games and exercising with us.
Coach Harrison and Mrs. Delka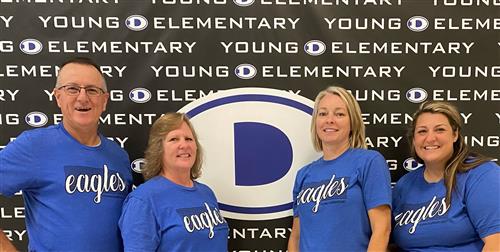 K-5 will come to PE three days a week. Two days will be for 50 minutes each and one day for 25 minutes.
Pre-K will come to PE everyday for 20 minutes.
Please have your student wear tennis shoes on days they come to PE. Students can bring a change of tennis shoes in their backpacks for PE if not wearing them to school. We do not allow cleats or boots in PE and slip-on shoes can fly off easily, therefore closed-toed athletic shoes that either fasten with ties or velcro will be needed. Also, wearing shorts under dresses and skirts is a necessity.
If your child has any medical condition that we should be aware of, please let us know. This includes asthma. You can e-mail us, call us, or come by. If your child is hurt or sick, please send us a dated note. If the note is not dated, it will be for one day only.